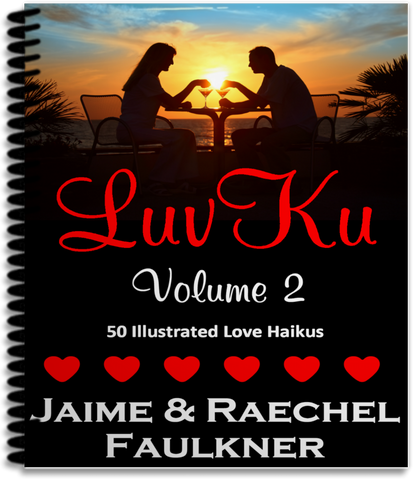 LuvKu™ (Volume 2)
$14.95 $9.95 - LuvKu™ (Volume 2)
Note: This is a digital product, so you will be able to download the PDF immediately after purchase.
On-Sale, Limited Time Offer
Celebrate Or Start A New Romance
50 Beautifully Illustrated Love Haikus

Quick-Read Poems - Filled With Meaning And Emotion
Lovingly Written To Share With That Special Someone In Your Life
The Images Were Chosen To Seamlessly Complement The Prose
The Images Drive The Poetry
The Full List Of Contents Is Available Via The Images To The Left, But We've Also Included Them Here For Convenience:

All Around The Globe
An Endless Supply
As Sweet As Candy
As We Make Our Way
Big Ben May Be Loud
Early Morning Sun
Fireworks In The Night
I Feed On Your Love
I Know You So Well
I Prize Our Romance
I Searched High And Low
In Stormy Weather
Leaves May Change Color
Life May Be Bumpy
Love Is Elusive
Magical Light Show
My Love Is Writ Large
My Passion For You
Nature Loves Strong Roots
Never A Wrong Note
Obstacles Abound
Once In A Blue Moon
Reflections Of Love
Rough Seas Don't Exist
Sharing Life With You
Shimmering Sunbeams
So Many People
So Much To Take In
Some Cake Once A Week
Stronghold Of Your Heart
The Moment We Met
The Music You Make
The Precious Moments
The Scent Of True Love
The View From Up Here
The Way To Your Heart
There's Nothing Airy
There's Nothing On Earth
Though Flowers Be Small
Two Different Styles
Unknown Tomorrows
When You Have To Leave
When You Look This Cute
When Your Lips Touch Mine
Without Your Support
Written In The Stars
You Light Up My Life
Your Love Brings Me Peace
Your Love Helped Me Cross
You're The Only Drug

Snag Yours Before Prices Go Up!
Like These Haikus, Get The Mugs Also.
NOTE: The Sample Images May Have Watermarks For Copyright Protection Purposes, But The Mugs Are NOT WATERMARKED.
Quantity: 1 Book
Download Your Book 24/7 - No Waiting!
Condition: New
Here's A Sample LuvKu™, Called "Your Love Helped Me Cross", For Your Enjoyment:
...and this is the version we use on the mug:
This is what the mug looks like:
Billing Details:
Your Credit Card Will Show:

Dealio Hound

Or:

Fast & Friendly Products, For Payments Made On This Site.
Click The Add To Cart Button Above!