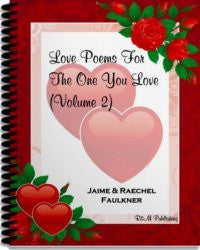 Love Poems For The One You Love (Volume 2)
$19.95 $14.95 - Love Poems For The One You Love (Volume 2)
Note: This is a digital product, so you will be able to download the PDF immediately after purchase.
Love Poems For The One You Love (Volume 2) is a second 125-page collection of romantic love poems for that special lady in your life. The poems are all original, modern and short (which means they're quick and easy to read).
There are 80 original poems in the main section:
A Blind Date
A Fortune Cookie
A Gondola Ride
A Hard Day
A New Leaf
A Solitaire
Apples And Oranges
Chalk And Cheese
At The Playhouse
Blue Eyes
Bouquet Of Roses
Chocolates
Coffee Shop
Commitment
Computer
Courtesy
Dance Class
Dirty Weekend
Dream World
Emotions
Engagement
Facebook
Father My Kids
Give Me A Massage
Hairy Chest
Hand In Hand
Hypnotic Eyes
I Am In The Mood
I Have Needs As Well
I Need A Hero
I'm A Bad Girl
It's Complicated
Judgement Day
Linguini
Lipstick
Magician
Morning Jog
Mother's Day
My Secret
Nice Buns
On The Pull Tonight
One Night Stands
Only Always
Open Fire
Patio At Night
Pop Concert
Queen Bee
Romantic Dinner
Scenic Ride
Scenic View
Security
Shared Dreams
Slip And Slide
Souvenir
Spectacles
Steamy Vacation
Stretch Marks
Strong Arms
Sun Lounger
Superman
Swimming Pool
Tall Dark Stranger
Tandem Ride
Thank You
The Caribbean
The Hair Salon
The Posing Pouch
The Quarterback
The Winter Blues
The Yoga Class
Under The Pier
Understand Me
Verboten
Walk On The Beach
Water Coolers
Wedding Verse
What's Your Fantasy?
White Steed
White Wedding
Your Family
Here's a sample poem, called Blue Eyes, from this unique collection
Blue eyes gazing deeply into my own
Like lapis lazuli - that's my birthstone
Unblinking, I feel the power of your love
Each time you tell me I'm your turtledove
Everything feels peaceful inside my mind
You're gentle, empathetic and so kind
Evoking, whenever we steal a kiss
Such tremendous passion and total bliss
This is followed by 20 more poems in the short story told in verse, Furever In Love, that was begun in Volume 1:
Quick Recap
Roland Garros
Treadmills
Hiking Trip
Doggie Pool
A Sultry Night
A Walk In Eader Park
Time Goes So Fast
The Home Depot
At The NBA Game
Lazy Days
Superdog
Diego's Surprise
Doggie Wake-Up Call
Another Dog
Welcome Frenchy
Pilates Workout
Bath Time
Restaurant
Our Future Plans
And finally, there are 10 bonus poems, taking the total number of poems in this collection to 110:
Ballet Buff
Candy Store
Confidence
Duvet Day
Having Kids
Hogmanay
Love Apples
New High Heels
Nile Cruise
Too Tired
Men, surprise your lady with a gift of love poems that will give her pleasure for months to come.
Ladies, if your man's not the romantic type, then why not treat yourself to some love poems?
If you're looking for a great and unusual gift, then this book of fun love poetry is also available in paperback from Amazon.com, which means that you can have it gift-wrapped too!
Don't forget to check out Love Poems For The One You Love (Volume 1) - whereas that first volume was written primarily from a male perspective, this second volume turns the tables and looks at love through female eyes.
Click The Add To Cart Button Above!