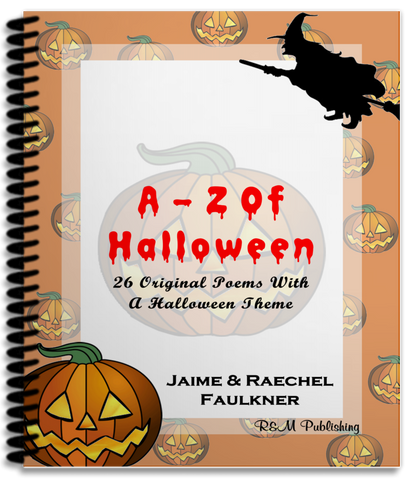 A - Z Of Halloween
$12.95 $7.95 - A - Z Of Halloween
Note: This is a digital product, so you will be able to download the PDF immediately after purchase.
A-Z Of Halloween is a collection of 26 short, original Halloween poems.
As the title suggests, there is one poem for each letter of the alphabet, with each poem focusing on a theme related to Halloween.
Here's a sample Halloween poem from this fun collection:
T Is For Trick Or Treat
Time to put on your costume and go out
Remember a bag and make sure it's stout
It may need to carry a heavy weight
Candies, for example, that folks donate
Keep on walking around, from door to door
Only please don't be crass and ask for more
Really good children are nice and polite
There are lots of homes to visit this night
Ready to set out - with adults in tow
Ensuring you're safe wherever you go
Approach the first house, perhaps in your street
Then knock on the door and say "trick or treat"
The full list of all 26 Halloween poems is as follows:
A Is For Apparition
B Is For Broomstick
C Is For Cemetery
D Is For Darkness
E Is For Enchanting
F Is For Frankenstein
G Is For GhostBusters
H Is For Haunting
I Is For I'm Coming To Get You
J Is For Jack-O-Lantern
K Is For Keep Away
L Is For Love Bite
M Is For Midnight
N Is For Nightmares
O Is For Otherworldly
P Is For Pumpkins
Q Is For Quarantine
R Is For Rotting Brain
S Is For Skeleton
T Is For Trick Or Treat
U Is For Undead Ones
V Is For Vampires
W Is For Werewolves
X Is For Xenophobia
Y Is For Yucky Stuff
Z Is For Zombie Outbreak
Click The Add To Cart Button Above!