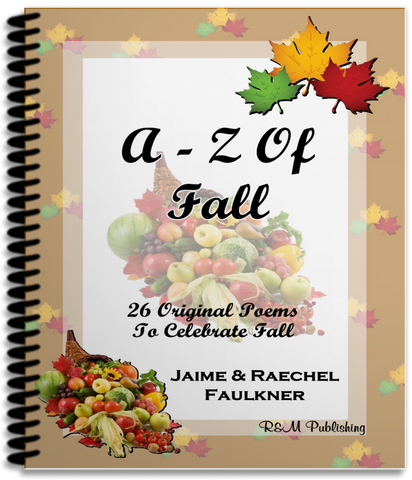 A - Z Of Fall
$12.95 $7.95 - A - Z Of Fall

Note: This is a digital product, so you will be able to download the PDF immediately after purchase.
A-Z Of Fall is a collection of 26 fun and original poems about autumn.
These short fall poems celebrate the activities and events of this transitional time of year, and include, of course, poems about Halloween and Thanksgiving.
As the title of this book suggests, there is one poem for each letter of the alphabet, with each poem focusing on a theme related to the fall (or autumn) season.
Here's a sample autumn poem from this collection:
I Is For Indian Summer
It's November but the weather is still hot
Not normal for this time of year, but so what
Don't mind a bit more warmth before it gets cold
In fact, spending time outdoors never gets old
A chance to go on one more bike ride or two
Nature walks in the forest, just me and you
Swimming even, and a trip to the seaside
Unwilling to let these pleasures be denied
March, April and May are a long time away
Making the most of each and every day
Enjoy this Indian summer while you can
Remember, it may be a flash in the pan
The full list of all 26 autumn poems is as follows:
A Is For A Bit Of Both
B Is For Bonfire Night
C Is For Cooling Off
D Is For Darker Days
E Is For Eleventh
F Is For Fall Colors
G Is For Ginger Flavor
H Is For Halloween Night
I Is For Indian Summer
J Is For John F Kennedy
K Is For Kayaking
L Is For Las Vegas
M Is For Migrating South
N Is For New England
O Is For Oktoberfest Party
P Is For Pine Cone
Q Is For Quilting
R Is For Raking Leaves
S Is For Scarves And Gloves
T Is For Thanksgiving
U Is For United States
V Is For Veterans
W Is For World Animal Day
X Is For Xiphias Gladius
Y Is For Yearbook
Z Is For Zinfandels
Click The Add To Cart Button Above!